The report builder allows for construction of bespoke reports which can be exported, saved and scheduled. It contains a large number of filters corresponding to various areas and functions of Blue LMS. When selected, filters will expose information in the spreadsheet produced. Reports are produced in either .xls or .csv format.
By default, reports produced will not include courses which have no learner enrolments. If this data is required, 'yes' should be selected against the Include not enrolled courses filter.

User, course and module properties
As many filters as required can be selected within this section. User properties correspond to data contained within learner profiles. Course properties includes data regarding the course (ID and name) and also regarding enrolments for individual learners (dates, status, score and training time). The same is true of module properties.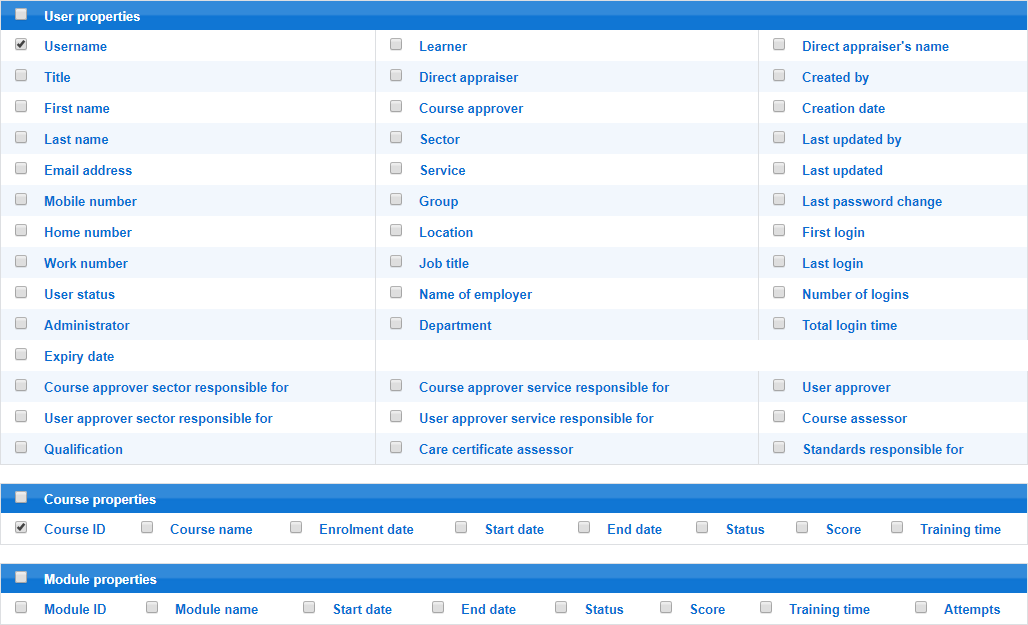 Additional filters
It is not necessary to select additional criteria in order to run the report builder, however, it may be desirable in order to limit the data set produced. To expose additional filters, the orange Show filters option must be selected:

Learner filters can be used to limit the report to specific learners or sets of learners (i.e. sectors, services, groups) within the system.
User creation / login dates can be used to filter by dates learners were added to the system, or have logged in.
The course and module filter search boxes can be used to narrow down the scope of the report with regards courses. Single or multiple courses can be selected, then single or multiple modules from those courses can be additionally selected.
Finally, course enrolment and attempt dates can also be selected.
Running the report and other actions
Select the desired output (.xls or .csv), then select an action. The report can be run, scheduled, the settings saved as a template or settings cleared.

When the report is run, a spreadsheet is produced (this may take a little time depending upon how much data has been included in the report).
Scheduled and saved reports can be viewed and edited through the reports section of the main menu.